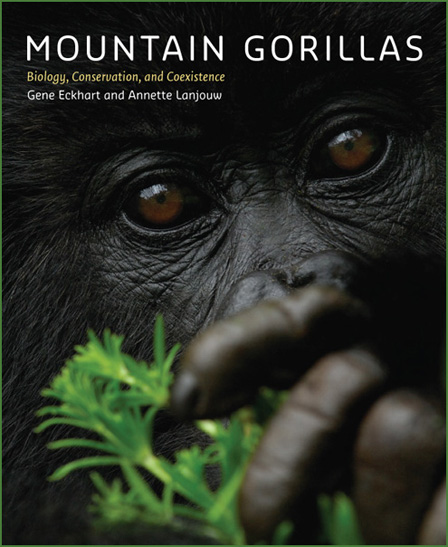 NOW AVAILABLE
Click here to Buy NOW at Johns Hopkins University Press
Click here to Buy NOW at Amazon.com - United States
Click here to Buy NOW at Amazon.ca - Canada
Click here to Buy NOW at Amazon.co.uk - United Kingdom
-------------------------------------------------------------------------------------
From the Johns Hopkins University Press fall release catalogue:
Tucked into one of the most beautiful and conflicted regions of the world are the last of the mountain gorillas. These apes have survived centuries of human encroachment into their habitat and range and decades of intense conflict and violence. The remaining 720 mountain gorillas exist in a fragile habitat, nestled in an area torn by human interests and needs for land, water, and minerals.
With captivating photography and the most recent scientific research, Mountain Gorillas takes you deep into the montane rain forests of Uganda, Rwanda, and the Democratic Republic of Congo to reveal the complex story of the mountain gorillas of the Virunga Volcanos and Bwindi. Gene Eckhart and Annette Lanjouw reveal how humankind affects the gorillas and their habitat, detail the innovative conservation and education efforts undertaken by governments and nongovernmental organizations, and explain how ecotourism and other conservation-focused enterprises support efforts to protect the two mountain gorilla populations.
This perfect blend of intimate photography, thought-provoking scholarship, and engaging stories demonstrates the inexorable ties among the animals, environment, and peoples of the region, and makes clear why the continued existence of the Virunga and Bwindi gorillas is so important. Mountain Gorillas features stunning photos and four appendices documenting key biological and ecological information, habitat vegetation, milestones in mountain gorilla conservation, and travel information.
Gene Eckhart is a wildlife photographer who has worked extensively throughout the jungles, deserts, savannah plains, and woodlands of Africa. Annette Lanjouw is the director of the Great Ape Program of the Arcus Foundation and has worked for more than 20 years on conservation of great apes in Central Africa.
9 x 11, 256 pp., 199 color photos, 5 line drawings
978-0-8018-9011-6 0-8018-9011-X
$34.95 / £19.00
Publication Date: December 2008
"The survival of mountain gorillas depends wholly on our knowledge, interest, and compassion, forever. This book, with its vivid photographs, brings us up-to-date on the plight and the promise of mountain gorilla conservation."—George Schaller, Wildlife Conservation Society
"Every visit I ever had with mountain gorillas ended in tears. My emotions exploded as I drove away with my back to the silhouette of the Virunga volcanoes. I was always given more by the gorillas, the trackers, and researchers than I could ever find a way to give back with my photographs. Gene Eckhart and Annette Lanjouw's new book brings me home again, reminding us all of the world treasure that exists so tenuously in this one spot on our fragile planet. The political situation around the mountain gorilla habitat is still the biggest risk for this vulnerable population. This volume serves as a sensitive reminder of what we have and what we collectively stand to lose. Let us never stand silently by as this treasure is destroyed." – Michael "Nick" Nichols - National Geographic Magazine
"This book is a 'must read' for anyone wishing to delve below the surface on the subject of mountain gorilla conservation. It is simply the best treatise of the subject I have ever seen—and is beautifully punctuated with striking photographs. Eckhart and Lanjouw have given us the next best thing to being there!"—Mark Nolting, President of the Africa Adventure Company and author of Africa's Top Wildlife Countries